Our Network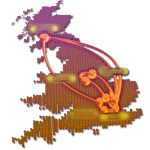 By using reliable hardware and rapid networks we are able to offer a fantastic service, combined with our personal customer service and competitive prices makes us one of the best in our field.
Our network prides itself on its 100% uptime SLA on all services.
Our network spans across the globe and is maintained 24 hours a day, 7 days a week, 365 days a year, it's fully switched and has multiple redundant routers and peering to many different ISPs allowing us to uphold our connectivity uptime.
Our Data Centre includes a wide array of comprehensive security features. This includes 24/7/365 monitoring by on-site personnel, CCTV Video camera surveillance and a security breach alarm.
To ensure maximum system performance, the data floors maintain a constant 21C - 2C and humidity is kept at 50% - 10%. This is monitored by the building management system. We have a scalable and sustainable power supply from multiple generators with UPS in place.
Fire detection is also very important, the Data Centre uses some of the most advanced available. Early Smoke Detection Apparatus (VESDA) is installed in every facility. These extremely sensitive smoke detectors are linked to the management system.
Our server hardware is of the highest quality, we believe it is extremely important to choose the right hardware, we always aim to minimise any technical problems and down-time, which usage of quality hardware has proven to help reduce.
We run Linux based operating systems, which we find improves our overall uptime, stability and security.